If you are interested in weapons and war research at UNM here are two interesting contract summaries obtained about ten years ago through a Freedom of Information request. The requests were sent to the Department of Defense for military organization contracts with the University of New Mexico, here in Albuquerque, NM.
SWM now has several hundred contract summaries like these. These two are interesting in that they are from the same time frame, of the Reagan Star Wars program. One is with Mohamed El-Genk, chair of UNM Nuclear Engineering in which it lists as a clear objective space nuclear power for an SDI project, the SP-100.
Some years Dorie and another person went to El Genk's office and confronted him with this info and he denies it is true. A reporter did a story for the local campus newspaper on it too in which he denies this is what the research is about.
The other contract is interesting in that it reveals some of the research in this time from the DoD at our university was classified secret. It is also about space weapons development, most likely the laser portion of a nuclear weapon in space.
What is interesting also is that these contract summaries are not on the new web site of the Department of Defense for contract information, www.dtic.mil.
The last attachment is a copy of a Boeing press release as an article in Space War in which they are bragging of their ties with the Air Force space weapons lab at Kirtland AFB and the support the University of New Mexico provides to the consortium. The regents and president of UNM deny they are involved in any of this war profiteering.

__________________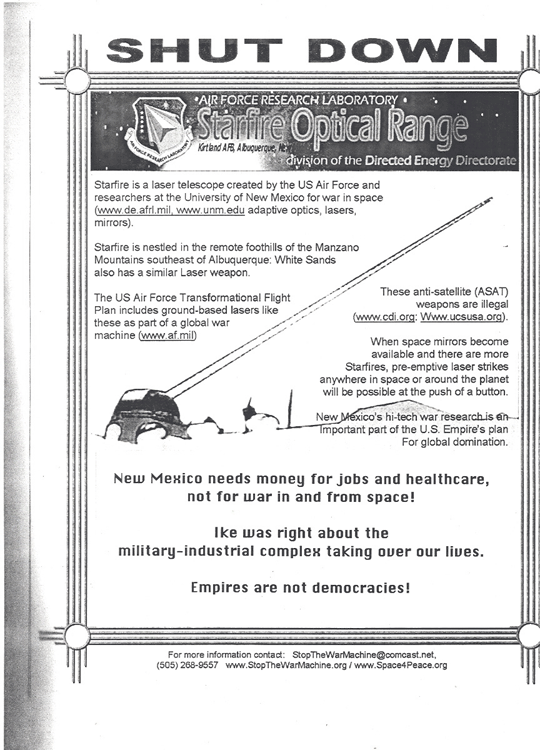 -Shutdown Starfire flyer